Massive Early Voting In Georgia Runoff Heightens Expectations In Campaign's Final Days
Early voting ended Friday, and the ballots already cast more than double the comparable figure in Aprils first-round election, and amount to almost three quarters of the 192,000 people who voted in that 18-candidate race.
With spending on advertising by both sides nearing a total of $40 million, the race already ranks as the most expensive House contest in U.S. history.
Ossoff and Handel, as the top finishers in the first round, are vying for a seat in suburban Atlanta vacated by Republican Tom Price, who is now President Donald Trumps secretary of health and human services. Former House Speaker Newt Gingrich also once represented the district.
The high early vote total indicates that the final numbers on Tuesday will likely far surpass those of the April election.Election officials in Georgia hailed the unprecedented and phenomenal turnout, according to the Atlanta Journal-Constitution. It remained unclear, though, which candidate would benefit from a higher turnout.
Price won re-election November, garnering almost 62 percent of the roughly 311,000 votes cast.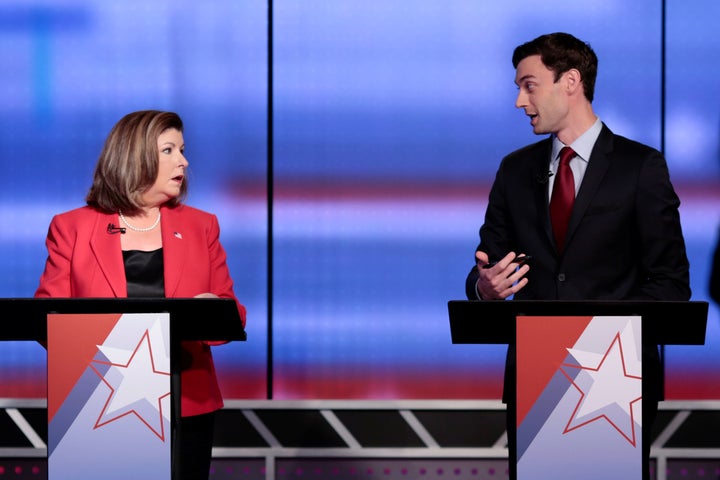 In Aprils election, Ossoff won about 48 percent of the vote, falling just short of clearing the 50 percent mark he needed to avoid a runoff. Handel, one of 11 Republicans competing in the first round, got about 20 percent.
Over the weekend, Ossoff and Handel both campaigned with high-profile political figuresin hopes of generating more enthusiasm. Price, as well as former Georgia Gov. Sonny Perdue who now serves as Trumps agriculture secretary joined Handel at a Saturday campaign stop. Ossoff got a boost Saturday from civil rights icon Rep. John Lewis (D-Ga.).
Read more: http://www.huffingtonpost.com/entry/georgia-6th-runoff-early-voting-ossoff-handel_us_5946bd91e4b0f15cd5bc2aab