Gaza electricity crisis: 'It is the worst I can remember but we expect it to get worse'
Move by Mahmoud Abbas to cut electricity to 2-4 hours a day in escalation of row with Hamas is affecting quality of life for Gazans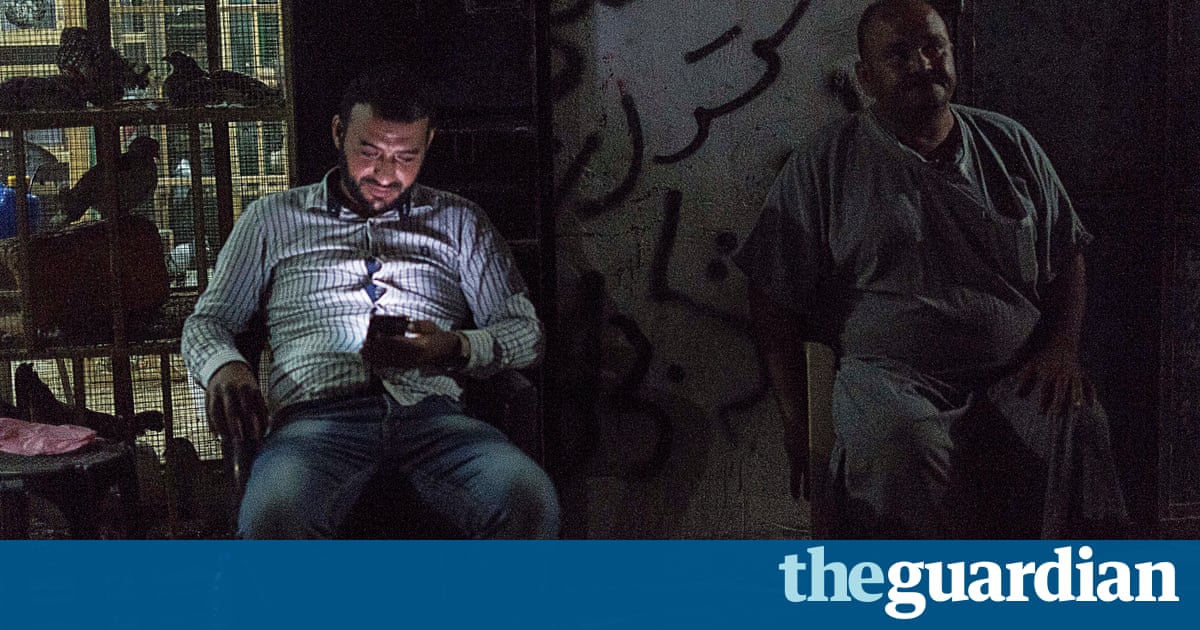 In Imad Shlayls electronics shop in Gaza City, the customers crowding his store are interested in only two products: LED lights and the batteries to power them.
In the already impoverished Gaza Strip, residents have learned to adapt to the fact that electricity is only available for between two and four hours a day.
But fresh anger was sparked when availability was cut further last month, at the request of the Palestinian president, Mahmoud Abbas, in an escalation of his conflict with Hamas, the Islamist group that wrested control of the Gaza strip from forces loyal to Abbas 10 years ago.
The shortages have defined how people live their lives: getting up in the middle of the night, if there is power, to run washing machines or turn on water pumps.
Only the wealthy few have frequent, long-lasting access to electricity to power lights and fans and fridges, televisions and wifi routers, in Gazas stifling summer heat.
We used to sell all sorts of things, says Shlayl. But its different these days. All we sell is batteries and chargers. Because the crisis is so deep we are selling 100 batteries a day when normally we would sell 20.
Gaza requires 430 megawatts of power to meet daily demand, but receives only half that. Sixty megawatts are supplied by its solitary power station, now short on fuel, while the rest is supplied by Israel and funded by Abbass West Bank-based Palestinian Authority (PA).
Abbass move to cut supplies to Gaza, which is already under a joint Israeli and Egyptian blockade now in its 11th year has quickly made him a hate figure among many Gazans, who question why he is punishing 2 million fellow Palestinians in what appears to be an attempt to force Hamas to relinquish control of the territory.
Though business is good for Shlayl, he is angry at the fresh shortages faced by Gazans that affect all areas of life, from hospital emergency wards to clean water supplies.
Ive not done anything to be punished by anyone. It is the worst I can remember but we are expecting it to get worse and worse, he said. Not just electricity, but other things as well. We are in a very deep descent.
As well as cutting electricity, the PA has cut salaries for its employees in Gaza by upwards of 30% , prompting thousands to protest on the streets of Gaza city.
Residents also blame Abbas for a backlog in processing the medical referral process for those needing to travel out of Gaza for treatment, although who is at fault in that issue is less clear cut.
The problems facing Gaza where high levels of unemployment are endemic is most obvious in the poorest areas.
In Gaza Citys al-Shati refugee camp, home to the head of Hamass political bureau, Ismail Haniyeh, whole housing blocks were dark, while in others only a handful of windows were weakly illuminated.
In the one-room kiosk selling pigeons and chickens that he manages, just off the camps main market, Ayman Nasser, 32, is sitting on the street with his friends in search of a sea breeze.
His face is illuminated by the light of his mobile phone. He has one battery-powered light burning in his shop.
Part of the problem is that we dont have any news. Who should we blame for this? Hamas, Israelis, Abbas? he said.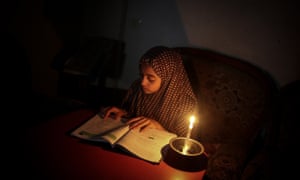 Read more: https://www.theguardian.com/world/2017/jul/10/gaza-electricity-crisis-it-is-the-worst-i-can-remember-mahmoud-abbas