A New Tax Break for Poor Neighborhoods Could Benefit Luxury Developers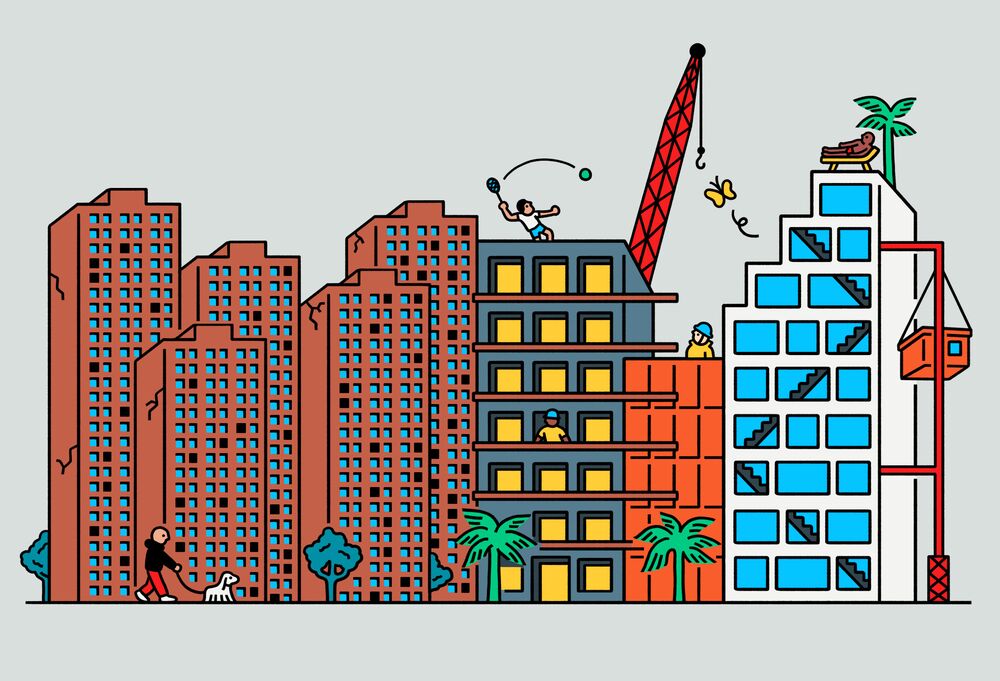 Recovery in the U.S. from the Great Recession has been uneven. Superstar cities such as New York and San Francisco have sprung back, while plenty of rural areas and Rust Belt towns are still in a slump. Buried in the tax overhaul late last year was a provision to address some of these economic disparities by allowing states to designate "opportunity zones" in low-income areas. Investors who develop real estate or fund businesses in these zones will be eligible for tax breaks. The concept is not new—Congress has launched similar efforts in the past—but this one is more free market in spirit than its predecessors.
Governors have been scrambling over the last few months to submit proposed zones to the U.S. Treasury Department, which certified some of them earlier this month. The rest had to make their submissions by April 20.
The provision's backers hope the tax breaks will create jobs and boost local economies in parts of the country that badly need it— from rural Idaho to Newark, New Jersey. Some researchers and community groups aren't so sure. They say that the law could promote the kind of investments that are intended, such as new small businesses and affordable housing—but the legislation is so broadly written that savvy investors, corporations, and real estate developers could exploit it. "It could be used to take affordable housing and convert it into market-rate condos," says Brett Theodos, a senior researcher at the Urban Institute. "It could be used to support payday lenders. Amazon could engineer it into an investment vehicle for HQ2."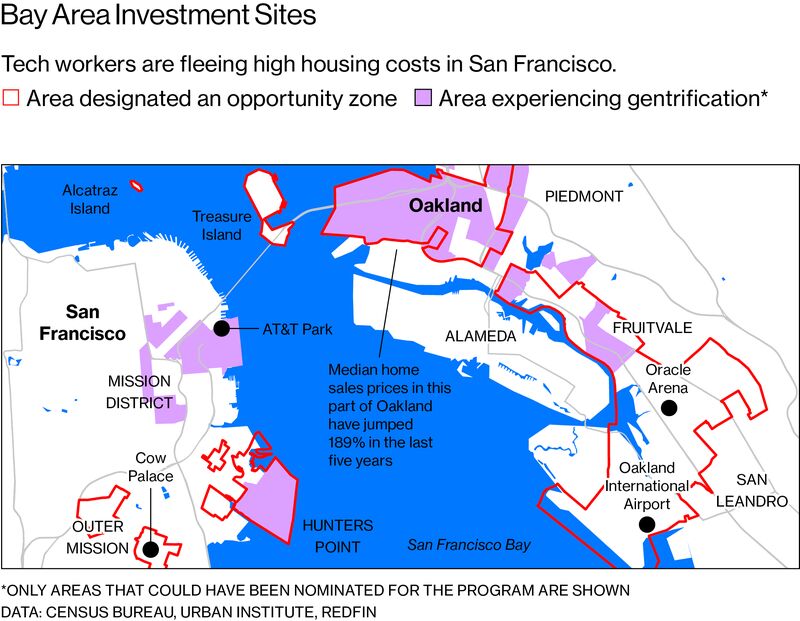 The idea for opportunity zones was hatched three years ago in a white paper from the Economic Innovation Group, a non-profit founded by Sean Parker, the Napster creator and first president of Facebook Inc., to "empower entrepreneurs and investors to forge a more dynamic economy throughout America." The authors—Jared Bernstein, one of the key members of the Obama Administration's economic team, and Kevin Hassett, a leading Republican economist—argued for a more market-driven approach to community development. Past efforts to spur economic growth in hard-hit areas, such as Enterprise Zones and Renewal Communities, had fallen short because of weak incentives or too much complexity, they wrote.
One of their key ideas was to allow investors to defer paying capital gains taxes if they sold appreciated investments and rolled the money into funds that would target distressed communities. This would entice Americans to put some of their roughly $6 trillion in unrealized investment gains toward areas that need it. "Our ambitious vision was to create a new asset class," says EIG Chief Executive Officer Steve Glickman. "None of this was really possible through other programs."
The group garnered bipartisan backing for the idea, and in 2016, a group of Republicans and Democrats in the House and Senate concurrently introduced bills. They branded the areas that would be eligible for tax breaks opportunity zones and named the vehicles that would invest in them "opportunity funds." The legislation never reached a floor vote, but a modified version was tucked into the Republican tax plan that passed in December.
In addition to the tax deferral that Bernstein and Hassett described in their white paper, the law has a further big incentive: If people keep an investment in an opportunity fund for at least a decade, they pay no capital gains on any appreciation. (There are smaller breaks if investors sell after five or seven years.) The goal is to attract long-term capital and prevent investors from using this as quick way to avoid the taxman. Altogether, the Joint Committee on Taxation estimates the cost at about $1.6 billion over the next decade, though additional revenue will be foregone from opportunity fund investments held for more than 10 years.
Many groups are already studying how they might use the benefit, including socially minded "impact" investors and developers of low- and middle-income apartments. "We think that this could be especially helpful" in supplying the equity capital that could work in tandem with other tax credits, says Rachel Reilly, the director of impact investing at Enterprise Community Partners, a non-profit that finances and develops affordable housing. Banks, venture capitalists, private equity firms, and real estate funds are also looking into the program, EIG says.
Which types of investors end up using the benefit will depend on guidelines the Treasury Department writes in the coming months. The law defines opportunity funds as "a corporation or a partnership" that keeps at least 90 percent of its assets in investments in opportunity zones. Funds are permitted to hold everything from company stock to real estate, as long as it's "substantially" improved.
The law allows a "very broad range" of investments and entities to qualify, says Adam Looney, a senior fellow at the Brookings Institution, which could create opportunities for abuse. "We shouldn't expect Treasury to impose guardrails that aren't in the statute." Treasury declined to comment. A person familiar with the department's thinking emphasized that opportunity funds must make new investments and can't just buy and hold property in gentrifying neighborhoods to get the tax break. Investors have to put capital at risk and make major improvements. Local laws around land use and zoning can also be used to prohibit some kinds of unwanted development.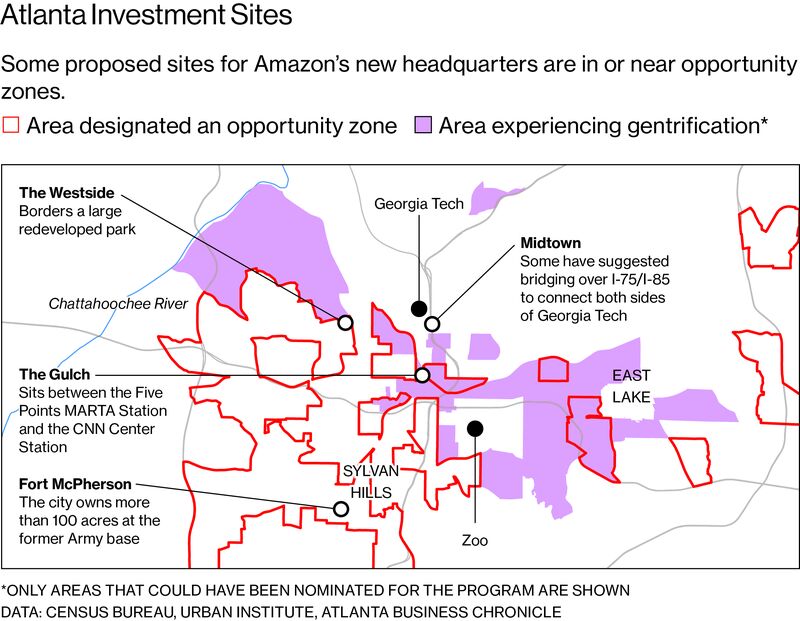 Some interesting details are emerging from the states that have already had their picks approved by Treasury. In addition to several rural areas, Georgia selected parts of Atlanta that include, or are adjacent to, sites the city has pitched to Amazon.com Inc. for its second headquarters. Michigan selected most of downtown Detroit, where Dan Gilbert, the founder of Quicken Loans Inc. and a member of EIG's "Founders Circle," has bought lots of real estate. Amazon didn't respond to a request for comment, and a representative for Gilbert declined to comment.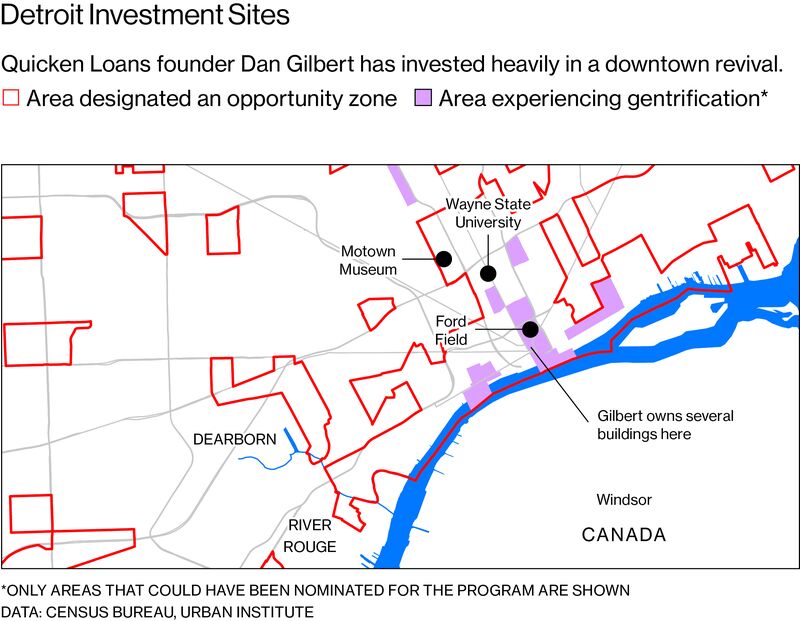 After California released a preliminary list of potential opportunity zones, the California Reinvestment Coalition and more than two dozen other community development and civil rights groups to sent a letter to Governor Jerry Brown, a Democrat, in mid-March, urging him to take more time to study the state's selections. "We are gravely concerned that this program, as currently structured, will contribute to displacement of low-income residents and residents of color in the selected census tracts," they wrote. EIG also wrote a letter urging California to carefully review its options. In response, California eliminated 183 areas. But some rapidly gentrifying neighborhoods remained. Among the 879 California nominations Treasury approved earlier this month were Los Angeles's arts district and swaths of Oakland.
An analysis by Theodos and his colleagues at the Urban Institute shows that about 3 percent of the possible census tracts that governors can pick are already gentrified, based on such statistics as recent jumps in average income and the percentage of people with bachelor's degrees. In Washington, D.C., the figure is 46 percent.
Proponents of opportunity zones recognize that with such a large national effort there will inevitably be areas where development might have happened anyway. But those are outliers that obscure the good that can come from a policy like this, they say. According to an analysis by EIG, more than two-thirds of the population in designated opportunity zones lives in "severely distressed" census tracts. These are places that meet some pretty abject thresholds, such as more than 30 percent of residents living in poverty, or median family incomes that are less than 60 percent of the area average. Even so, winning opportunity zone status doesn't guarantee that an area will attract big investments. The majority of the money, says Theodos, may flow to just a few.  
Tracking investment in opportunity zones will require data. For now, there's no requirement for Treasury or the IRS to regularly report on how much money is flowing into designated areas, which groups are claiming the tax breaks, and where they're investing. Some of that work may be taken on by the private sector. Funds with a mandate for social impact, for instance, may want to measure the good that comes from investors' money. States and cities may also require some additional reporting in return for incentives that could work in tandem with the tax breaks available in opportunity zones. But those efforts may be patchy. Even some of the measure's backers are concerned about transparency. There's a "moral obligation," says Enterprise's Reilly, to understand what we're getting in return for forgoing so much tax revenue.
Read more: http://www.bloomberg.com/news/articles/2018-04-23/new-tax-break-for-poor-neighborhoods-may-benefit-luxury-builders